Location
WK Forest Reserve & Campgrounds is an off-the-grid campsite in Sta. Ines Tanay, Rizal.
To access the actual campsite, visitors need to cross from six to nine rivers (depending on the water levels and season) smack-dab in the middle of the forest. 
We advise bringing a 4×4 type vehicle, high clearance vehicle, or something similar with at least A/T tires on most days, and mud tires on rainy months. At times when rivers are passable, campers may also opt to use motorcycles and bikes.
Arriving at the foothill, campers need to hike or drive 500-meter uphill to reach the main campsite.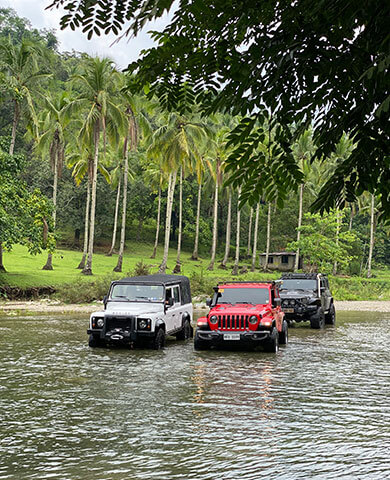 How to go to Wk Forest & Campgrounds
There are two points of convergence: Masinag and Cogeo Market.
From Masinag (50 kilometers)
Continue straight until you reach San Andres, Batangasan.

Continue straight, crossing the rivers until you reach the campsite.
If you are from Masinag, you will pass Cogeo Wet and Dry Market (42.5 kilometers). If meeting here, follow the directions above.
ADVANCE RESERVATION is highly encouraged so that the owners can coordinate the logistics with the campers.
WK Forest & Campgrounds is 1.5 hours of drive away from Metro Manila.
*Walk-ins are strictly not allowed.