A private camping destination in Rizal
Inspired by nature, WK Forest Reserve & Campgrounds gives guests an old-school camping experience under the starry sky. We want to bring back that sort of camping experience that has somehow become lost over the years, as crowded and fully developed camping grounds have supplanted the old-fashioned outdoor experience.
Campers will undoubtedly have a memorable time here. There are several bird species, civet cats, monitor lizards, and fireflies in the area. You'll run into them at your future camp with us if you're lucky. We hope to keep them for future generations to enjoy as well.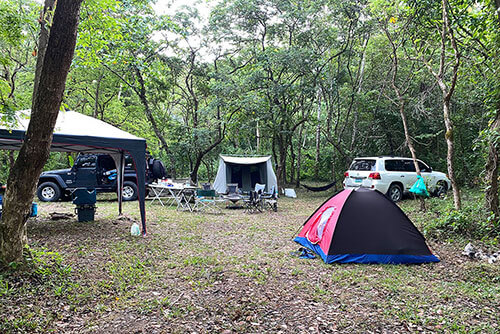 The camp is off-the-grid. With the absence of a phone signal, electricity, and Wi-Fi, here at WK Forest Reserve & Campgrounds is where you can truly disconnect from the outer world. While at it, please don't expect fancy amenities other than a simple shower and comfort room equipped with一yes, a bidet!
The camp is completely self sufficient. With no phone signal, electricity, or WIFI, this is the place to truly disconnect from the outside world.
A secluded camping experience
WK Forest Reserve & Campgrounds has made a portion of the property available for camping, but the goal of nature conservation remains; thus, ADVANCE RESERVATION is required. This is done to avoid overcrowding because most campers value privacy and quiet time, as well as to reduce the adverse effects of human activity on the natural environment.
We have three types of campsites in the middle of a forested mountain:
The majority of our events occurred at the Open Camp一the most feasible area for stargazing and astrophotography, for instance.
The Forest Camp is highly recommended to campers who want to commune with nature more.
Finally, the Overlooking Camp allows campers to bask in the panoramic view of the mountain range and river.